In our offer, you can also find GWEIKE press brakes, which you can have in many configurations and levels of equipment. Based on our experience, we are able to recommend a suitable set of CNC sheet metal bending machines. The length and stroke of the working space, the number of axes, the control system, tool clamping or pressing force can be adjusted in particular. These machines are characterized by perfect ergonomics and user-friendly controllability.
Sample configuration

Length of the working surface: 3200 mm
Distance between columns: 2950 mm
Stroke 250 mm
Pressing power: 175 tons
Number of controlled axes: 6
Front material supports 2 pcs
Lower tool clamping: Pneumatic
Upper tool clamping: Hydraulic Willa
Steering system: Delem 66T
Automatic safety laser system
Connecting online to the network
Machine weight: 12,000 kg
Installation dimensions: 4300x1800x2900 mm
Machine condition: New with CE certification
Come and discover the innovative features of our GWEIKE press brakes that make the machine operator's job easier and make the entire production process more efficient. Bending sheet metal has never been easier. Benders work precisely and quickly. Arrange a personal demonstration of the machine, where it will be possible to discuss the details of individual configurations. We specialize in sheet metal forming machines including fiber lasers with an affordable price.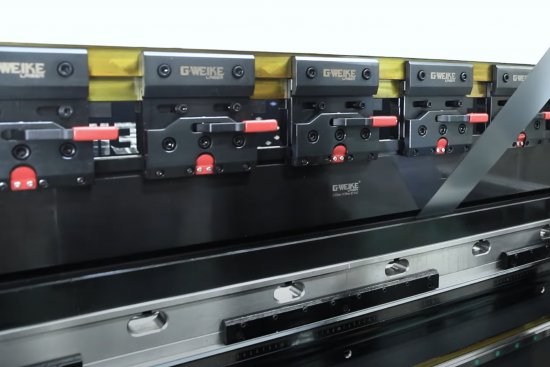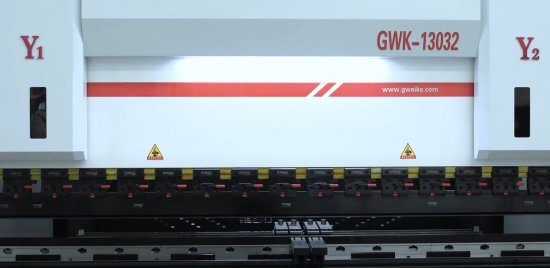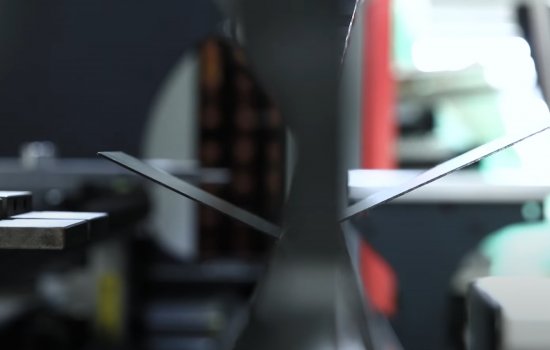 What is a press brake?
The press brake is a modern and innovative device that has become an integral part of the production process in many industries. It is used in material processing, sheet metal bending and metal forming. Its ability to create precise and repeatable folding operations enables manufacturers to achieve high quality and efficiency. Below we will look at the principle of operation of the press brake and its advantages.
The principle of operation of a CNC sheet metal bending machine
A press brake is a device designed for bending and shaping materials such as sheet metal in particular. Its basic principle is the use of a force mechanism that compresses and bends the material between two tools. These tools are a folding die and a comb.
The bordering die is a fixed part of the press that holds and creates the basic shape of the final product. The comb, the moving part of the press, presses on the material and presses it against the die, causing bending. The comb is designed to conform to the desired bending shape of the material.
Advantages of the GWEIKE press brake
The press brake offers several advantages that make it a popular CNC machine in industrial production. Includes:
Precision: Press brakes are capable of producing repetitive bending operations with high precision. This means that the final products have consistent dimensions and shapes, which is key to meeting customer requirements.
Efficiency: Enables fast and efficient material bending. It is able to process a larger volume of material in less time than traditional bending methods, which increases overall production productivity.
Versatility: CNC bending machines are flexible and can process different types of materials, including iron, aluminum, stainless steel and other metals. This allows manufacturers to work with a wide range of materials and adapt to the needs of different projects.
Control and automation: Modern press brakes are equipped with advanced control systems that allow easy control and adjustment of processes. In addition, some presses are fully automated, which increases efficiency and reduces human error.
Safety: Bending machines are designed with worker safety in mind. They are equipped with protective elements and safety devices that minimize the risk of injuries when handling tools and materials.
Use in industry
The press brake is a modern tool that significantly improves the process of material processing, sheet metal bending and metal forming. Its precision, efficiency, versatility and safety make it essential equipment in industrial production. Thanks to these presses, manufacturers can achieve higher product quality, increase productivity and reduce costs.
As technology continues to advance, CNC bending machines continue to improve. Manufacturers are developing new models with greater precision, speed and flexibility. Thanks to advanced control systems and automation, the need for manual intervention is minimized and the efficiency of production processes is increased.
The press brake opens up a wide range of possibilities for innovative design and production of various products. In combination with other technologies such as CNC laser cutting and 3D printing, new perspectives in development and production are opening up.
Press brakes play a key role in industry and their use continues to expand. Thanks to them, higher product quality is achieved, productivity increases and companies' competitiveness improves. Their development and innovation will lead to further advances in material processing and metal forming. CNC sheet metal bending machines are one of the main tools that enable the industrial revolution and create new possibilities for production and design. With their help, companies can cope with the growing demands of the market and bring innovative products to the world.
Over the years, the press brake has become an indispensable element in the industry. Its ability to bend and shape materials with high precision and efficiency brings many benefits to manufacturers. As technology advances and production requirements continue to increase, the press brake will play an ever-increasing role in the world of industrial production.